Quiz
Business Quiz: Who is the New RBI Deputy Governor, Which SoftBank Companies Laid Off Workers, and More
It's been an eventful week in the world of Business and Finance - as usual! From SoftBank-backed companies like OYO announcing lay-offs, Byju's rising in the list of the country's largest unicorns to the RBI getting a new Deputy Governor, a lot has happened. Think you've followed the news ardently enough or want to test your Quiz acumen? Take this week's Quiz Knock to find out!
Here's what you can expect:
1) Ola, Swiggy, OYO, Paytm and Byju's are India's five biggest unicorns. How can you arrange them as per decreasing valuation of the company?
2) 2019 was the worst year on record for auto sales, industry body SIAM said in a recent report. What does SIAM stand for?
3) Who was recently appointed Deputy Governor of the RBI?
4) Which Chinese company is reportedly in talks with Vodafone Idea and Airtel to jointly develop a cloud network in India?
(Hint: This company is the largest mobile telecommunications corporation in the world by market capitalisation and also the world's largest mobile network operator by total number of subscribers.)
5) The company represented by red has seen its market cap increase by five times over the past few years. Meanwhile, its competitors' market caps have fluctuated only slightly. Which is the company in red?
(Hint: Think electric.)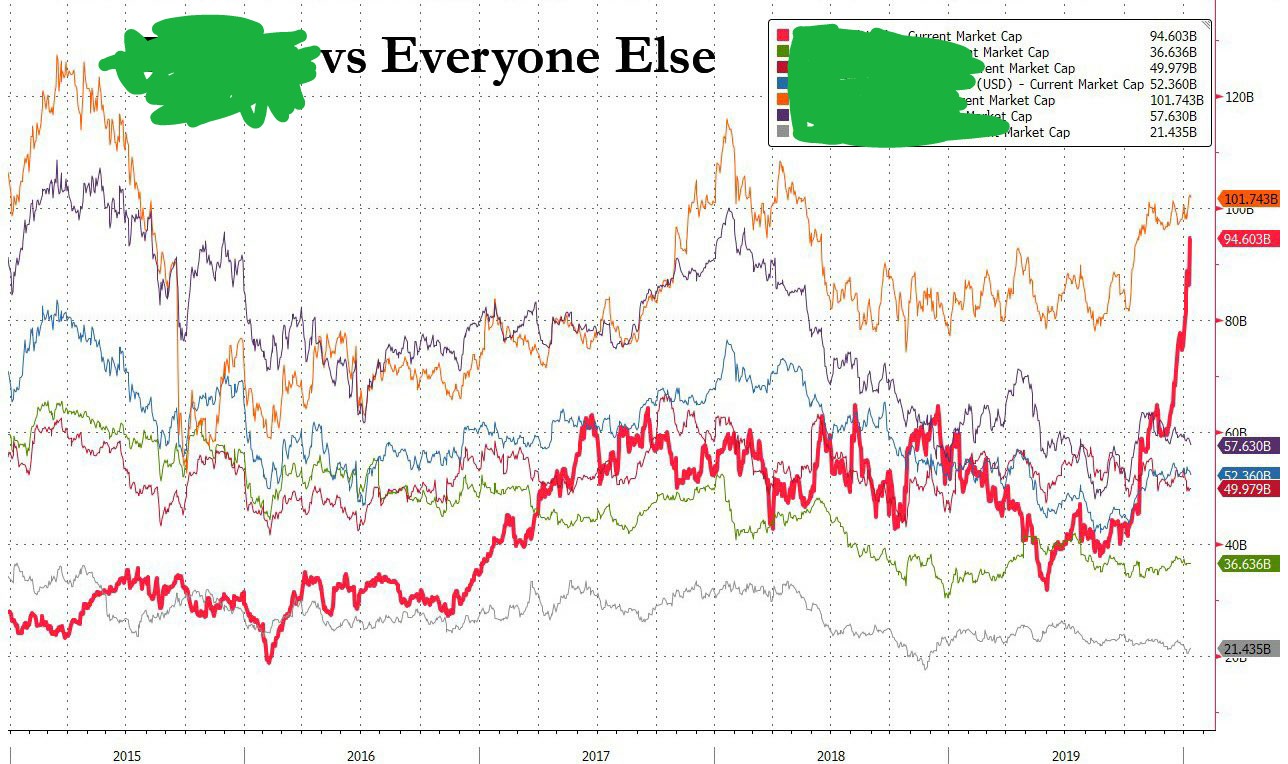 6) Which fintech startup did Visa recently purchase for $5.3bn (roughly twice its private valuation)?
7) The world's most precious metal has seen its value surge 222% in only one year. It costs $7,925 per ounce and most of it is mined in South Africa. Which is the world's most precious metal?
8) 2019 was a big year for music streaming companies in the US. It was the first year that music streams crossed ____ in number.
9) OYO, Rappi, Getaround and Zume - these are startups that laid off hundreds of their employees in recent days. What connects these four companies?
10) Tsai Ing-wen recently won another term as President of which country after elections were held last week?
FIN.
How well do you know the top news of the last week? Have a go at our TheWeekThatWas Quiz and test your wits.